June 4, 2019
We were waiting for new tariffs on China and instead got new tariffs on Mexico, a country that has agreed to a new trade deal to replace the old NAFTA. Clearly using tariffs to resolve immigration issues is an innovative tool, but does it really solve anything?
Many of the immigrants President Trump wants to target come through legal ports of entry claiming asylum. I am not familiar with Mexican immigration laws, but are tariffs a way for Mr. Trump to force Mexican immigration laws to change? This seems to be overreaching a bit.
Not even his infamous Wall would solve the issue of immigrants claiming asylum at U.S. border checkpoints. While negotiating a complicated situation with the Chinese – a trade friction that was frankly overdue and completely warranted – the last thing we need is this added "Mexican standoff."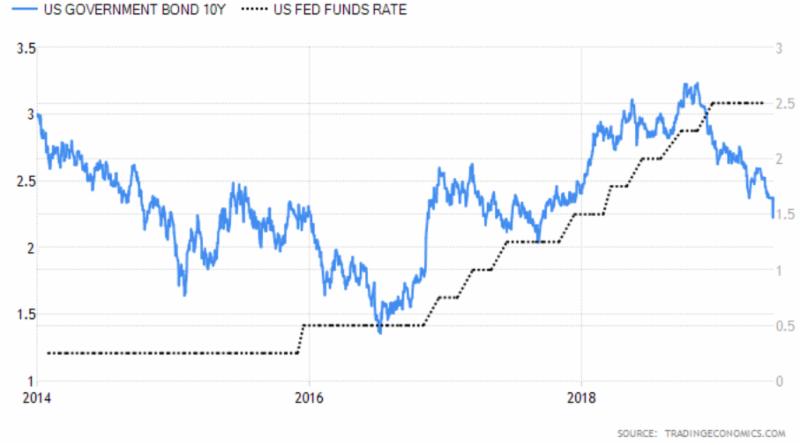 Graphs are for illustrative and discussion purposes only. Please read important disclosures at the end of this commentary.
The markets are unhappy with President Trump's Mexican standoff. That can be seen in both the stock market and the 10-year Treasury yield dropping to 2.14% last week –36 basis points below the Fed funds rate. The 10-year Treasury yield is not yet below the 2-year note, which is the classic measure of yield curve inversion. The 2-year closed Friday at 2.03%. This is the only silver lining that I can find.
Sharply dropping Treasury yields in a good economy often mean the market is worried that the economy will not be so good a year from now. A big driver of falling yields in the U.S. is the situation in Europe, where the German 10-year bund closed on Friday at -0.20%, while the German 2-year federal note that goes by the uber-long name Bundesschatzanweisungen, closed Friday at -0.64%. The "schatz" bunds have offered negative yields ever since Jeff Gundlach called them the "short of the century" four years ago, so we have very serious issues in Europe if interest rates are stuck in negative territory for so long.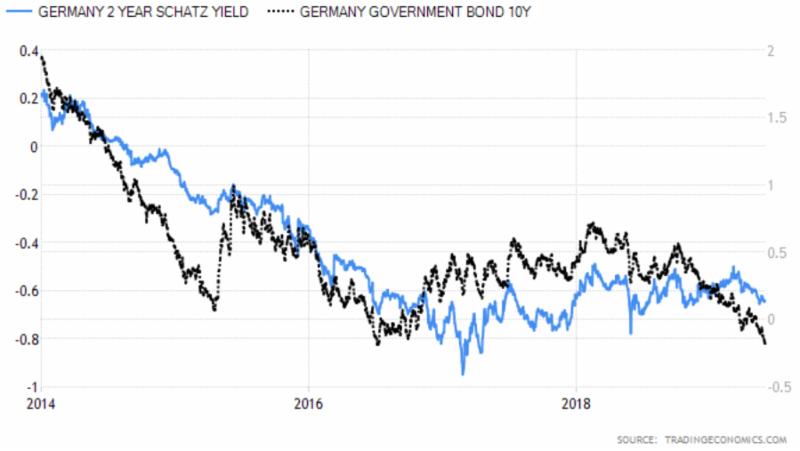 Graphs are for illustrative and discussion purposes only. Please read important disclosures at the end of this commentary.
The latest drop in Treasury yields is not all about the situation in Europe, but also the failure of trade talks with China and new sanctions in Mexico. Those trade frictions have not yet turned out to be an economic event, but they have the potential to become substantial disruptors to economic performance in the United States, Mexico, and China – all at the same time – should they escalate further in the latter part of 2019.
Junk Bonds Say Tariffs Are Still Only A Worry, Not a Threat
Markets worry about the future and sometimes they extrapolate quite a bit further than warranted by actual future events. While junk bond prices have weakened, as they typically are heavily correlated with stock prices, they are not leading the stock market lower. One big difference between now and the fourth quarter of 2018 is that we have much lower Treasury yields this time around, as the market is no longer worried about the Fed overtightening, as it was back then.
Graphs are for illustrative and discussion purposes only. Please read important disclosures at the end of this commentary.
It is my experience that the junk bond market tends to top out before the stock market in a deteriorating economy. It did not do that in the fourth quarter of 2018, nor is it doing so now. Junk bond spreads have not "blown out," and junk bond prices are declining coincidentally with the stock market, not leading it.
The way I read this situation is that the tariff issue has not become an economic event yet, but it has the potential to become a big economic event, particularly if the situation with Mexico escalates. It could be that President Trump is merely giving the Mexicans a jolt and does not want to escalate the situation with tariffs. He is famous for putting his opponents in a situation where they never really know where they stand, which would make the Mexican tariffs "a Trump thing to do." We'll find out soon enough.
The way I see it there are three scenarios: 1) Worst-case, the situation with Mexico and China blows completely out of control, which I would consider unlikely. 2) Most likely, the situation with Mexico is resolved before it blows out control, but the situation with China continues to deteriorate. I would consider that as a base-case scenario and most likely. It is the calculated failure of the trade talks by China that leads me to believe that they never intended to make a deal, while Mexico did agree to a NAFTA renegotiation. 3) Best case, but unlikely, the issues with both Mexico and China are resolved this summer.
The Sun Tzu disciples in Beijing have been getting away with a clever system of purposefully buying less from the U.S. and more from key partners and neighbors to increase their political influence there, as well as forced transfer of technology, and they would likely want to continue with that system. Plus, a failed trade negotiation gives them the political cover to devalue the yuan, which may be their ultimate goal.
As the old Chinese curse goes: "May you live in interesting times."
Ivan Martchev
INVESTMENT STRATEGIST
Ivan Martchev is an investment strategist with Navellier.  Previously, Ivan served as editorial director at InvestorPlace Media. Ivan was editor of Louis Rukeyser's Mutual Funds and associate editor of Personal Finance. Ivan is also co-author of The Silk Road to Riches (Financial Times Press). The book provided analysis of geopolitical issues and investment strategy in natural resources and emerging markets with an emphasis on Asia. The book also correctly predicted the collapse in the U.S. real estate market, the rise of precious metals, and the resulting increased investor interest in emerging markets. Ivan's commentaries have been published by MSNBC, The Motley Fool, MarketWatch, and others. All content of "Global Mail" represents the opinion of Ivan Martchev

Although information in these reports has been obtained from and is based upon sources that Navellier believes to be reliable, Navellier does not guarantee its accuracy and it may be incomplete or condensed. All opinions and estimates constitute Navellier's judgment as of the date the report was created and are subject to change without notice. These reports are for informational purposes only and are not intended as an offer or solicitation for the purchase or sale of a security. Any decision to purchase securities mentioned in these reports must take into account existing public information on such securities or any registered prospectus.
Past performance is no indication of future results. Investment in securities involves significant risk and has the potential for partial or complete loss of funds invested. It should not be assumed that any securities recommendations made by Navellier. in the future will be profitable or equal the performance of securities made in this report.
Dividend payments are not guaranteed. The amount of a dividend payment, if any, can vary over time and issuers may reduce dividends paid on securities in the event of a recession or adverse event affecting a specific industry or issuer.
None of the stock information, data, and company information presented herein constitutes a recommendation by Navellier or a solicitation of any offer to buy or sell any securities. Any specific securities identified and described do not represent all of the securities purchased, sold, or recommended for advisory clients. The reader should not assume that investments in the securities identified and discussed were or will be profitable.
Information presented is general information that does not take into account your individual circumstances, financial situation, or needs, nor does it present a personalized recommendation to you. Individual stocks presented may not be suitable for you. Investment in securities involves significant risk and has the potential for partial or complete loss of funds invested. Investment in fixed income securities has the potential for the investment return and principal value of an investment to fluctuate so that an investor's holdings, when redeemed, may be worth less than their original cost.
One cannot invest directly in an index. Results presented include the reinvestment of all dividends and other earnings.
Past performance is no indication of future results.
FEDERAL TAX ADVICE DISCLAIMER: As required by U.S. Treasury Regulations, you are informed that, to the extent this presentation includes any federal tax advice, the presentation is not intended or written by Navellier to be used, and cannot be used, for the purpose of avoiding federal tax penalties. Navellier does not advise on any income tax requirements or issues. Use of any information presented by Navellier is for general information only and does not represent tax advice either express or implied. You are encouraged to seek professional tax advice for income tax questions and assistance.
IMPORTANT NEWSLETTER DISCLOSURE: The hypothetical performance results for investment newsletters that are authored or edited by Louis Navellier, including Louis Navellier's Growth Investor, Louis Navellier's Breakthrough Stocks, Louis Navellier's Accelerated Profits, and Louis Navellier's Platinum Club, are not based on any actual securities trading, portfolio, or accounts, and the newsletters' reported hypothetical performances should be considered mere "paper" or proforma hypothetical performance results and are not actual performance of real world trades.  Navellier & Associates, Inc. does not have any relation to or affiliation with the owner of these newsletters. There are material differences between Navellier Investment Products' portfolios and the InvestorPlace Media, LLC newsletter portfolios authored by Louis Navellier. The InvestorPlace Media, LLC newsletters contain hypothetical performance that do not include transaction costs, advisory fees, or other fees a client might incur if actual investments and trades were being made by an investor. As a result, newsletter performance should not be used to evaluate Navellier Investment services which are separate and different from the newsletters. The owner of the newsletters is InvestorPlace Media, LLC and any questions concerning the newsletters, including any newsletter advertising or hypothetical Newsletter performance claims, (which are calculated solely by Investor Place Media and not Navellier) should be referred to InvestorPlace Media, LLC at (800) 718-8289.
Please note that Navellier & Associates and the Navellier Private Client Group are managed completely independent of the newsletters owned and published by InvestorPlace Media, LLC and written and edited by Louis Navellier, and investment performance of the newsletters should in no way be considered indicative of potential future investment performance for any Navellier & Associates separately managed account portfolio. Potential investors should consult with their financial advisor before investing in any Navellier Investment Product.
Navellier claims compliance with Global Investment Performance Standards (GIPS). To receive a complete list and descriptions of Navellier's composites and/or a presentation that adheres to the GIPS standards, please contact Navellier or click here. It should not be assumed that any securities recommendations made by Navellier & Associates, Inc. in the future will be profitable or equal the performance of securities made in this report. Request here a list of recommendations made by Navellier & Associates, Inc. for the preceding twelve months, please contact Tim Hope at (775) 785-9416.