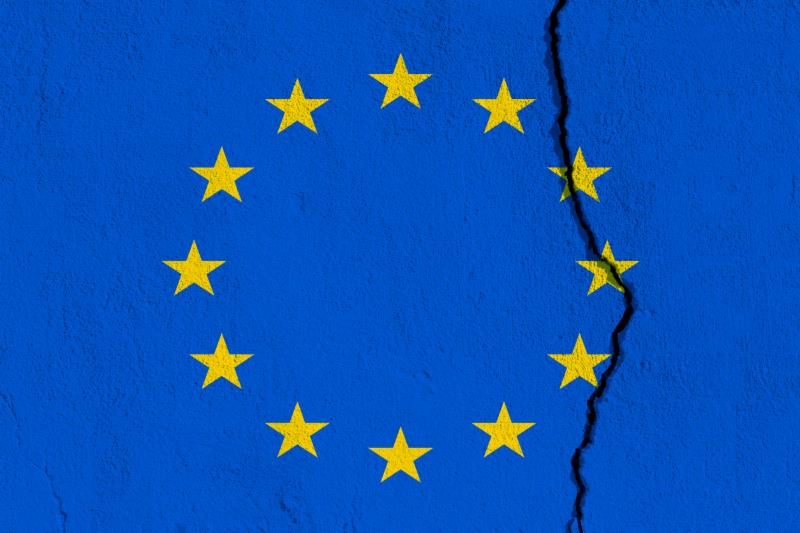 In my opinion, Thursday's stock market sell-off had more to do with anticipation of European elections, a collapsing British pound, and the resignation of British Prime Minster Theresa May. The elections for the 753 members of the European Parliament will run through Sunday. With the leadership of many major European Union (EU) countries – like Britain, France, and Germany – being weak or very unpopular, new members of the European Parliament are expected to be more nationalist and "populist," which ultimately undermines EU unity, which German Chancellor Merkel and French President Macron are trying to build. The strongest nationalist movements are currently in Italy and Spain, so it will be interesting to see if this populist uprising spreads to France and Germany. As a result, the EU will be viewed as much less unified.
The fact of the matter is that the EU is increasingly viewed as "the new Japan," as far as interest rates are concerned. Specifically, due to an aging population with generous social benefits, most EU countries cannot raise interest rates, and negative interest rates are becoming increasingly common. These negative interest rates, plus the ongoing quantitative easing by the European Central Bank, which is preparing even more stimulus plans for September, is expected to further undermine the euro. A weak euro and a weaker British pound – as yet another Brexit deadline approaches – essentially assures that the U.S. dollar will remain strong and benefit from the international capital flight that continues to suppress U.S. Treasury yields. (I discussed this international capital flight on my Thursday podcast, available on our Website.)
The 10-year U.S. Treasury bond hit a new multi-year intraday low of 2.297% on Thursday. This was likely caused by the currency panic in the British pound. As a result, market rates are now increasingly being controlled by international capital flows – and less by central banks. The Fed is openly debating how to deal with the lack of inflation and whether or not an interest rate cut is warranted. Furthermore, the collapse in crude oil prices on Wednesday and Thursday after higher-than-expected gasoline and crude oil inventories were reported is yet another clear signal that deflationary forces persist.
The Fed does not fight market rates, especially the Treasury yield curve, so I suspect that the next Fed interest rate decision will be a cut, in order to get in-line with market rates. In the meantime, this "Goldilocks" environment of low interest rates, decelerating inflation, and steady GDP growth persists.
I should add that the Federal Open Market Committee (FOMC) minutes were released on Wednesday, revealing that the Fed intends to remain "patient" on interest rates for "some time." The minutes said, "Members observed that a patient approach to determining future adjustments to the target range for the federal-funds rate would likely remain appropriate for some time, especially in an environment of moderate economic growth and muted inflation pressures, even if global economic and financial conditions continued to improve." The note added, "several" FOMC officials expressed concerns about the risk of low inflation readings leading to lower expectations of future inflation, but these Fed officials did not explicitly call for an interest-rate cut. Overall, the FOMC does not apparently want to invert the Treasury yield curve, so its balance sheet will remain a powerful tool for influencing interest rates.
Analyst Sees Decline of Tesla to $10 a Share
Some of the most interesting news last week happened on Tuesday, when Morgan Stanley analyst Adam Jonas cut his bearish scenario for Tesla to $10 per share, down from $97 per share previously estimated. At $10 a share, Tesla would be worth less than $2 billion in market capitalization, down from $34 billion last Friday. Complicating matters further, Tesla recently sold over $2 billion in convertible bonds and has $12.7 billion in outstanding debt. Although some debt could be converted to stock if Tesla defaults on its bonds and negotiates with bondholders, there is no doubt the company is in the midst of a "cash crunch."
As bearish as I have been about Tesla, I do not think its market capitalization will fall below $2 billion, as Morgan Stanley suggested. However, if and when Tesla "cracks" $10 billion in market capitalization (at less than $60 per share), I suspect the company will be acquired by a much larger auto maker. I still believe that Geely, which owns Volvo and its electric car brand, Polestar, would be the most likely suitor.
Geely is based in China and Tesla is striving to shift its manufacturing to China as fast as possible, now that it has stopped expanding its Gigafactory outside of Reno, due to a lack of demand and continued battery manufacturing problems. It is highly questionable if Tesla has the capital or partners to move its manufacturing to China. As a result, it simply makes more sense for Tesla to team up with a big Chinese manufacturer like Geely, which has an ambitious electric vehicle push via its new Polestar brand. This would also allow Geely to temporarily dominate the electric vehicle market until VW Group (Audi, Bentley, Bugatti, Porsche, Seat, and VW) catches Tesla in electric vehicle output in the upcoming years.
Also, the automotive industry is generally weak, as orders for motor vehicles and parts declined 3.4% in April. The Commerce Department announced on Friday that durable goods orders declined 2.1% in April, due predominantly to a 25% plunge in commercial aircraft orders and a smaller drop in motor vehicle orders. Excluding transportation, durable goods orders were unchanged in April. Orders for defense goods were especially strong and rose 4.8% in April. Orders for core capital goods, excluding defense and transportation, declined 0.9% in April, which marks the first decline in four months. In the past 12 months, core capital goods orders, which represent business investment, decelerated from a 3.8% annual pace to only a 1.3% annual pace in April, the lowest pace since January 2017, but the fact that business investment is decelerating should help keep interest rates low, which is good for stocks.
Navellier & Associates does not own Tesla in managed accounts or our sub-advised mutual fund. Louis Navellier and his family does not own Tesla in personal accounts.
Louis Navellier
CHIEF INVESTMENT OFFICER
Louis Navellier is Founder, Chairman of the Board, Chief Investment Officer and Chief Compliance Officer of Navellier & Associates, Inc., located in Reno, Nevada. With decades of experience translating what had been purely academic techniques into real market applications, he believes that disciplined, quantitative analysis can select stocks that will significantly outperform the overall market. All content in this "A Look Ahead" section of Market Mail represents the opinion of Louis Navellier of Navellier & Associates, Inc.

Although information in these reports has been obtained from and is based upon sources that Navellier believes to be reliable, Navellier does not guarantee its accuracy and it may be incomplete or condensed. All opinions and estimates constitute Navellier's judgment as of the date the report was created and are subject to change without notice. These reports are for informational purposes only and are not intended as an offer or solicitation for the purchase or sale of a security. Any decision to purchase securities mentioned in these reports must take into account existing public information on such securities or any registered prospectus.
Past performance is no indication of future results. Investment in securities involves significant risk and has the potential for partial or complete loss of funds invested. It should not be assumed that any securities recommendations made by Navellier. in the future will be profitable or equal the performance of securities made in this report.
Dividend payments are not guaranteed. The amount of a dividend payment, if any, can vary over time and issuers may reduce dividends paid on securities in the event of a recession or adverse event affecting a specific industry or issuer.
None of the stock information, data, and company information presented herein constitutes a recommendation by Navellier or a solicitation of any offer to buy or sell any securities. Any specific securities identified and described do not represent all of the securities purchased, sold, or recommended for advisory clients. The reader should not assume that investments in the securities identified and discussed were or will be profitable.
Information presented is general information that does not take into account your individual circumstances, financial situation, or needs, nor does it present a personalized recommendation to you. Individual stocks presented may not be suitable for you. Investment in securities involves significant risk and has the potential for partial or complete loss of funds invested. Investment in fixed income securities has the potential for the investment return and principal value of an investment to fluctuate so that an investor's holdings, when redeemed, may be worth less than their original cost.
One cannot invest directly in an index. Results presented include the reinvestment of all dividends and other earnings.
Past performance is no indication of future results.
FEDERAL TAX ADVICE DISCLAIMER: As required by U.S. Treasury Regulations, you are informed that, to the extent this presentation includes any federal tax advice, the presentation is not intended or written by Navellier to be used, and cannot be used, for the purpose of avoiding federal tax penalties. Navellier does not advise on any income tax requirements or issues. Use of any information presented by Navellier is for general information only and does not represent tax advice either express or implied. You are encouraged to seek professional tax advice for income tax questions and assistance.
IMPORTANT NEWSLETTER DISCLOSURE: The hypothetical performance results for investment newsletters that are authored or edited by Louis Navellier, including Louis Navellier's Growth Investor, Louis Navellier's Breakthrough Stocks, Louis Navellier's Accelerated Profits, and Louis Navellier's Platinum Club, are not based on any actual securities trading, portfolio, or accounts, and the newsletters' reported hypothetical performances should be considered mere "paper" or proforma hypothetical performance results and are not actual performance of real world trades.  Navellier & Associates, Inc. does not have any relation to or affiliation with the owner of these newsletters. There are material differences between Navellier Investment Products' portfolios and the InvestorPlace Media, LLC newsletter portfolios authored by Louis Navellier. The InvestorPlace Media, LLC newsletters contain hypothetical performance that do not include transaction costs, advisory fees, or other fees a client might incur if actual investments and trades were being made by an investor. As a result, newsletter performance should not be used to evaluate Navellier Investment services which are separate and different from the newsletters. The owner of the newsletters is InvestorPlace Media, LLC and any questions concerning the newsletters, including any newsletter advertising or hypothetical Newsletter performance claims, (which are calculated solely by Investor Place Media and not Navellier) should be referred to InvestorPlace Media, LLC at (800) 718-8289.
Please note that Navellier & Associates and the Navellier Private Client Group are managed completely independent of the newsletters owned and published by InvestorPlace Media, LLC and written and edited by Louis Navellier, and investment performance of the newsletters should in no way be considered indicative of potential future investment performance for any Navellier & Associates separately managed account portfolio. Potential investors should consult with their financial advisor before investing in any Navellier Investment Product.
Navellier claims compliance with Global Investment Performance Standards (GIPS). To receive a complete list and descriptions of Navellier's composites and/or a presentation that adheres to the GIPS standards, please contact Navellier or click here. It should not be assumed that any securities recommendations made by Navellier & Associates, Inc. in the future will be profitable or equal the performance of securities made in this report. Request here a list of recommendations made by Navellier & Associates, Inc. for the preceding twelve months, please contact Tim Hope at (775) 785-9416.