May 29, 2019
Memorial Day weekend is a time for, well, remembering, especially American history, and for honoring those who have sacrificed so much so that we can have so much and, apparently, be so unthankful for it.
I say "unthankful" because nearly every press outlet, TV station, and internet platform seems obsessed with what's wrong with America, from one side or the other. Headlines seem determined to tell us that this is the "worst generation" for this or that, including the first generation to earn less than their parents (I've heard that for the last two generations), but I don't think we'd want to live in any other generation.
To dramatize history, I produced a play last weekend in my hometown. It was set 100 years ago in 1919, at a meeting of the Woodmen of America, as they planned a Memorial Day tribute for returning soldiers of The Great War, while facing multiple challenges of that era – two Constitutional Amendments sifting their way through the states, one ultra-conservative measure for alcoholic Prohibition and one liberal measure for women's suffrage. There was also a killer Spanish flu epidemic, an anti-immigrant mania, war resistance and trials for sedition, wounded veterans, new forms of dance and jazz, inflation, and more.
In my play, I contrasted a meeting of the all-male Woodmen of America with the all-female Maccabees, debating the virtues of Prohibition and women voting, the health challenges of flu, and the war wounded, but also a real-life story of a religious commune on our island, in which the pastor counseled evasion of the war draft, resulting in a sedition trial and a midnight escape by boat – all real historical events, which I reduced down to an intimate drama, "The Mystery of the Vanishing Quilt Lady," who left with the pastor.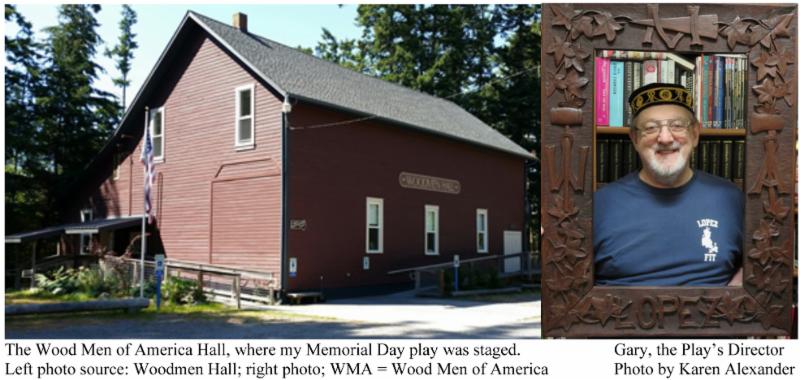 On the same day I was staging this play about the historical challenges of 1919 in rural Washington State, The New York Times published a similar historical survey of 1919 events by Dr. Matthew Avery Sutton, a professor of history at Washington State and author of "American Apocalypse: A History of Modern Evangelicalism." The article tells how a meeting on May 25, 1919 in Philadelphia changed America.
Dr. Sutton sets the stage: "For many Americans, it was thrilling to be alive in 1919. The end of World War I had brought hundreds of thousands of soldiers home. Cars were rolling off the assembly lines. New forms of music, like jazz, were driving people to dance. And science was in the ascendant, after helping the war effort. Women, having done so much on the home front, were ready to claim the vote, and African Americans were eager to enjoy full citizenship, at long last. In a word, life was dazzlingly modern. But for many other Americans, modernity was exactly the problem. As many parts of the country were experimenting with new ideas and beliefs, a powerful counterrevolution was forming … Beginning on May 25, 1919, 6,000 ministers, theologians, and evangelists came together in Philadelphia…"
In short, these ministers believed these massive changes signaled an approaching Apocalypse. The Four Horsemen were saddling up. The Great War was the first Horseman. Another horse was the killer global plague, the flu. The reshaping of Palestine in 1917 served as another warning that the end was near. The prospect for a League of Nations was another landmark on the road to Armageddon. And women voting!?
President Wilson's wartime Committee on Public Information validated their fears. "The demand of the State will leave no room for freedom of thought, or independence of action in any direction whatsoever," wrote evangelist W.W. Fereday. "Practically everything and everybody," he worried, would soon be under government control. The growing prominence of Darwinian evolution was another huge bugaboo.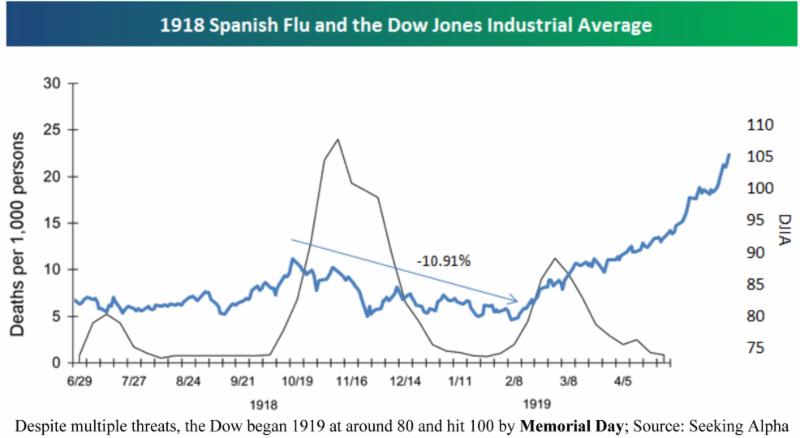 Graphs are for illustrative and discussion purposes only. Please read important disclosures at the end of this commentary.
P.S. The Dow Jones Index rose 30.5% in 1919. The big rise began as deaths from the flu epidemic ended.
We Don't Know History, So We Don't Know How Good Things Are Today
Pundits on cable TV howl about how conditions are worse now than at any time in U.S. history, when they are by most measures the best ever. We also hear that Mr. Trump is our "worst President ever," when 150 years ago we had scandal-ridden Andrew Johnson and Ulysses Grant, and 100 years ago we had a racist and semi-dictatorial Woodrow Wilson, who was incapacitated by a stroke in 1919 (his wife was effectively President for 17 months), and 50 years ago we had "Tricky Dick" Nixon running things.
In 1919, we also had general strikes in Seattle and Portland, a police strike in Boston, and the Red Menace threatening our coal and steel industries. And the 1919 World Series was fixed! Looking back further…
200 years ago, the financial Panic of 1819 swept America, triggering one of the worst depressions in American history. As one observer put it, "Nothing is to be seen but a boundless expanse of desolation! Wealth is impoverished, enterprise checked, commerce at a standstill, the currency depreciated." Prices for basic goods plunged. Cotton prices dropped 50% in one year. Congress passed severely protectionist tariff legislation, to protect America's "infant industries" and tariff levels grew throughout the 1820s.
Some recommended history books covering these three years: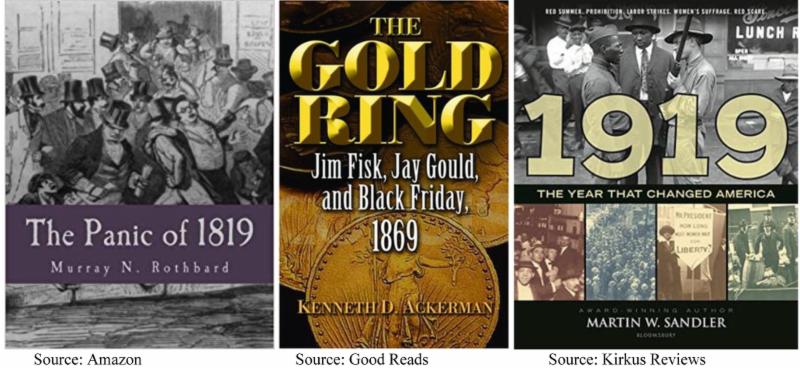 150 years ago, we began the final months of the first impeached President, Andrew Johnson, and the first year of one of the most disgraced Presidents in history, Ulysses Grant, starting with the gold speculation ring. By mid-September 1869, the "gold pool" held many times the gold supply available on any market. President Grant was part of that pool! The North and South were bitterly divided under Reconstruction, but we also united the East and West with the Golden Spike linking the nation by rails on May 10, 1869.
I have picked three years that "rhyme with 2019," but there were difficult times in almost every year in our distant past. Memorial Day is a time to honor past sacrifices, which made today's prosperity possible.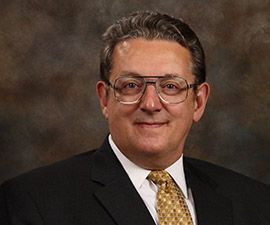 Gary Alexander
SENIOR EDITOR
Gary Alexander has been Senior Writer at Navellier since 2009.  He edits Navellier's weekly Marketmail and writes a weekly Growth Mail column, in which he uses market history to support the case for growth stocks.  For the previous 20 years before joining Navellier, he was Senior Executive Editor at InvestorPlace Media (formerly Phillips Publishing), where he worked with several leading investment analysts, including Louis Navellier (since 1997), helping launch Louis Navellier's Blue Chip Growth and Global Growth newsletters.
Prior to that, Gary edited Wealth Magazine and Gold Newsletter and wrote various investment research reports for Jefferson Financial in New Orleans in the 1980s.  He began his financial newsletter career with KCI Communications in 1980, where he served as consulting editor for Personal Finance newsletter while serving as general manager of KCI's Alexandria House book division.  Before that, he covered the economics beat for news magazines. All content of "Growth Mail" represents the opinion of Gary Alexander
Although information in these reports has been obtained from and is based upon sources that Navellier believes to be reliable, Navellier does not guarantee its accuracy and it may be incomplete or condensed. All opinions and estimates constitute Navellier's judgment as of the date the report was created and are subject to change without notice. These reports are for informational purposes only and are not intended as an offer or solicitation for the purchase or sale of a security. Any decision to purchase securities mentioned in these reports must take into account existing public information on such securities or any registered prospectus.
Past performance is no indication of future results. Investment in securities involves significant risk and has the potential for partial or complete loss of funds invested. It should not be assumed that any securities recommendations made by Navellier. in the future will be profitable or equal the performance of securities made in this report.
Dividend payments are not guaranteed. The amount of a dividend payment, if any, can vary over time and issuers may reduce dividends paid on securities in the event of a recession or adverse event affecting a specific industry or issuer.
None of the stock information, data, and company information presented herein constitutes a recommendation by Navellier or a solicitation of any offer to buy or sell any securities. Any specific securities identified and described do not represent all of the securities purchased, sold, or recommended for advisory clients. The reader should not assume that investments in the securities identified and discussed were or will be profitable.
Information presented is general information that does not take into account your individual circumstances, financial situation, or needs, nor does it present a personalized recommendation to you. Individual stocks presented may not be suitable for you. Investment in securities involves significant risk and has the potential for partial or complete loss of funds invested. Investment in fixed income securities has the potential for the investment return and principal value of an investment to fluctuate so that an investor's holdings, when redeemed, may be worth less than their original cost.
One cannot invest directly in an index. Results presented include the reinvestment of all dividends and other earnings.
Past performance is no indication of future results.
FEDERAL TAX ADVICE DISCLAIMER: As required by U.S. Treasury Regulations, you are informed that, to the extent this presentation includes any federal tax advice, the presentation is not intended or written by Navellier to be used, and cannot be used, for the purpose of avoiding federal tax penalties. Navellier does not advise on any income tax requirements or issues. Use of any information presented by Navellier is for general information only and does not represent tax advice either express or implied. You are encouraged to seek professional tax advice for income tax questions and assistance.
IMPORTANT NEWSLETTER DISCLOSURE: The hypothetical performance results for investment newsletters that are authored or edited by Louis Navellier, including Louis Navellier's Growth Investor, Louis Navellier's Breakthrough Stocks, Louis Navellier's Accelerated Profits, and Louis Navellier's Platinum Club, are not based on any actual securities trading, portfolio, or accounts, and the newsletters' reported hypothetical performances should be considered mere "paper" or proforma hypothetical performance results and are not actual performance of real world trades.  Navellier & Associates, Inc. does not have any relation to or affiliation with the owner of these newsletters. There are material differences between Navellier Investment Products' portfolios and the InvestorPlace Media, LLC newsletter portfolios authored by Louis Navellier. The InvestorPlace Media, LLC newsletters contain hypothetical performance that do not include transaction costs, advisory fees, or other fees a client might incur if actual investments and trades were being made by an investor. As a result, newsletter performance should not be used to evaluate Navellier Investment services which are separate and different from the newsletters. The owner of the newsletters is InvestorPlace Media, LLC and any questions concerning the newsletters, including any newsletter advertising or hypothetical Newsletter performance claims, (which are calculated solely by Investor Place Media and not Navellier) should be referred to InvestorPlace Media, LLC at (800) 718-8289.
Please note that Navellier & Associates and the Navellier Private Client Group are managed completely independent of the newsletters owned and published by InvestorPlace Media, LLC and written and edited by Louis Navellier, and investment performance of the newsletters should in no way be considered indicative of potential future investment performance for any Navellier & Associates separately managed account portfolio. Potential investors should consult with their financial advisor before investing in any Navellier Investment Product.
Navellier claims compliance with Global Investment Performance Standards (GIPS). To receive a complete list and descriptions of Navellier's composites and/or a presentation that adheres to the GIPS standards, please contact Navellier or click here. It should not be assumed that any securities recommendations made by Navellier & Associates, Inc. in the future will be profitable or equal the performance of securities made in this report. Request here a list of recommendations made by Navellier & Associates, Inc. for the preceding twelve months, please contact Tim Hope at (775) 785-9416.