May 21, 2019
Wildfires burn between four million and nine million acres a year in the U.S. That seems like a lot, right? But is it? It turns out that there are 2.3 billion acres in America, of which 766 million acres are forest. That means far less than 1% of the U.S. burns by wildfire each year and less than 1% of forest land.
Still, wildfires are destructive and life-threatening. Just look at the California's 2018 wildfires that killed 86 people and levelled 18,000 structures. To prevent wildfires, there are "controlled burns," which torch the dry brush so that it doesn't build up waiting for a lightning strike to start the next CNN headline cycle.
On a smaller scale, goats are apparently quite helpful at preventing wildfires. It must be true – it's on the Internet. If you want to rent some goats, why not head on over to rentagoat.com for all your goaty needs?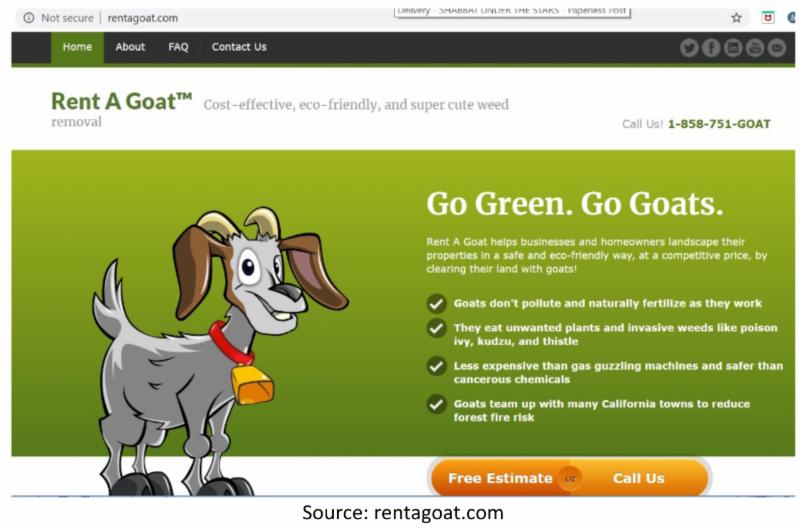 Wildfires are a lot like market volatility. Low volatility is often followed by wild swings in market prices and high volatility. Like a forest with no controlled burning, brush builds up (low market volatility) as the market grinds higher. Then the market hits new highs. The longer we go without a catalyst, the more dry brush builds up on the market floor. When something unexpected hits, the market becomes a tinderbox.
The truth is that occasional turbulence is good and healthy for the market, like normal forest fires are good for the forest. Corrections deflate our false senses of security, so maybe a "controlled burn" is in order, from time-to-time. I'm not saying it was the President's intent, but I find it an odd coincidence that Trump tweeted about China trade right after the market hit new highs. Maybe it was a "controlled tweet"!
The latest market volatility came unexpectedly fast and hard. On Friday, May 3rd, the S&P 500 closed just off its all-time highs made on Tuesday, April 30th. The next Sunday, Trump's tweet kicked up a dust devil that rocked stocks the following week. But investors just bought on the dip again. Each day from May 6th to May 10th, the market started dropping but closed off its lows, meaning investors bought on the dips.
That's a sign of underlying market strength during weakness. Sometimes you have to turn off the negative news when you see red-hot price action, but always remember the news media thrives on fear. They love stuff like trade wars, Middle East skirmishes and political unrest. It gets clicks and attracts advertisers.
With the trade war rhetoric brewing again, I find it interesting to note that for the last year, after the original 10% tariff on Chinese goods, prices did not rise – they actually fell, according to some economists. This is because China just devalued their currency while the U.S. dollar strengthened. That effectively offset the tariff. Now that tariffs have increased, it will be interesting to see what happens.
The Latest Selling is Focused on Specific Sub-Sectors
This week saw a spike in sell signals, but digging deeper, I saw a simple picture. Selling was in Infotech, Health, Materials and Discretionary sectors. Looking at subsectors, selling was fairly even. Consumer selling was in autos and retail. Materials selling was in chemicals and metals & mining. Infotech selling was all hardware, especially telecom equipment and semis. Health selling was all biotech.
To me, this simply means that after a huge run-up, an excuse to take profits should be expected.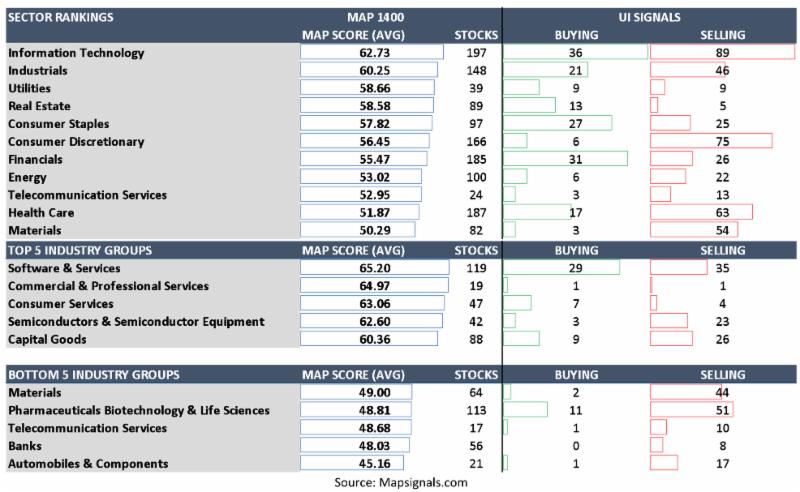 Graphs are for illustrative and discussion purposes only. Please read important disclosures at the end of this commentary.
Monday's selloff was unsettling, but once stock prices fall, the market usually rebounds. The S&P 500 dividend yield is around 2%, while 10-year Treasuries yield 2.4%, but what's more important is the way each are taxed. Dividends are taxed at 23.8%, as long-term capital gains, while bond income is taxed as ordinary income at a maximum federal rate of 40.8%. That means wealthy investors are better off owning stocks than bonds. This table shows how you end up with 7% more money owning stocks at 2% yields.
Graphs are for illustrative and discussion purposes only. Please read important disclosures at the end of this commentary.
Another reason not to worry is that bad market Mondays are usually good for forward returns. Bespoke Investment Group said that since this bull market started in March 2009 there were 15 Mondays where the SPY (S&P 500 ETF) fell 2+%. In 12 of those 15 times, the SPY was higher the next day, up by an average 1.01%. A week later, the SPY was up 14 of 15 times – with an average gain of +3.2%.
Our own historical data said something strikingly similar. Remember, the MAP Ratio tracks big buying versus big selling by institutions. The higher the ratio, the more buying. The lower the ratio, the more selling. Since 2012, we saw 12 "overbought" periods (a MAP ratio of 80+%) which subsequently fell below 60%. To go from 80% (heavily overbought) to 60% requires some decent selling, like now.
Below is a table of those 12 events. The "Retreat from High" shows how far the SPY fell from its closing peak. Now, look at the 1-to-6 week returns after the ratio fell to 60%: The returns are very strong.
Graphs are for illustrative and discussion purposes only. Please read important disclosures at the end of this commentary.
The good news from this analysis is that the MAP ratio just fell below 60% on Friday, May 17.
Fundamentally, U.S. companies are still very strong. According to FactSet, for Q1 2019
Over 90% of S&P 500 companies have reported earnings
Earnings have been an average 5.4% above expectations.
76% of companies beat earnings, well above the five-year average of 72%.
59% beat revenues, which is equal to the five-year average.
The blended sales growth rate for Q1 2019 is +5.4%
To me, this means "buy the dips." Search for great stocks to own and then buy them when they go on sale. Great stocks bounce higher and faster than regular stocks – while the duds thud.
The media needs to make money! Use that information to literally "buy into the fear." Like Ram Charan said: "Drama starts where logic ends." Logic says the U.S. is the best place to be. We have the strongest economy and the best companies for growing sales and earnings.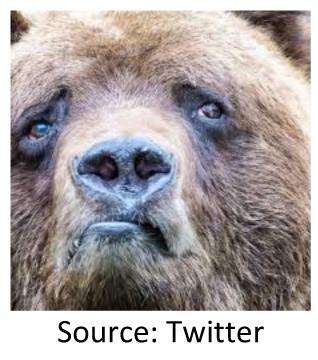 Owning stocks is more attractive than owning bonds. Don't let the bears bring you down.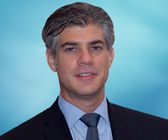 Jason Bodner
MARKETMAIL EDITOR FOR SECTOR SPOTLIGHT
Jason Bodner writes Sector Spotlight in the weekly Marketmail publication and has authored several white papers for the company. He is also Co-Founder of Macro Analytics for Professionals which produces proprietary equity accumulation/distribution research for its clients. Previously, Mr. Bodner served as Director of European Equity Derivatives for Cantor Fitzgerald Europe in London, then moved to the role of Head of Equity Derivatives North America for the same company in New York. He also served as S.V.P. Equity Derivatives for Jefferies, LLC. He received a B.S. in business administration in 1996, with honors, from Skidmore College as a member of the Periclean Honors Society. All content of "Sector Spotlight" represents the opinion of Jason Bodner
Although information in these reports has been obtained from and is based upon sources that Navellier believes to be reliable, Navellier does not guarantee its accuracy and it may be incomplete or condensed. All opinions and estimates constitute Navellier's judgment as of the date the report was created and are subject to change without notice. These reports are for informational purposes only and are not intended as an offer or solicitation for the purchase or sale of a security. Any decision to purchase securities mentioned in these reports must take into account existing public information on such securities or any registered prospectus.
Past performance is no indication of future results. Investment in securities involves significant risk and has the potential for partial or complete loss of funds invested. It should not be assumed that any securities recommendations made by Navellier. in the future will be profitable or equal the performance of securities made in this report.
Dividend payments are not guaranteed. The amount of a dividend payment, if any, can vary over time and issuers may reduce dividends paid on securities in the event of a recession or adverse event affecting a specific industry or issuer.
None of the stock information, data, and company information presented herein constitutes a recommendation by Navellier or a solicitation of any offer to buy or sell any securities. Any specific securities identified and described do not represent all of the securities purchased, sold, or recommended for advisory clients. The reader should not assume that investments in the securities identified and discussed were or will be profitable.
Information presented is general information that does not take into account your individual circumstances, financial situation, or needs, nor does it present a personalized recommendation to you. Individual stocks presented may not be suitable for you. Investment in securities involves significant risk and has the potential for partial or complete loss of funds invested. Investment in fixed income securities has the potential for the investment return and principal value of an investment to fluctuate so that an investor's holdings, when redeemed, may be worth less than their original cost.
One cannot invest directly in an index. Results presented include the reinvestment of all dividends and other earnings.
Past performance is no indication of future results.
FEDERAL TAX ADVICE DISCLAIMER: As required by U.S. Treasury Regulations, you are informed that, to the extent this presentation includes any federal tax advice, the presentation is not intended or written by Navellier to be used, and cannot be used, for the purpose of avoiding federal tax penalties. Navellier does not advise on any income tax requirements or issues. Use of any information presented by Navellier is for general information only and does not represent tax advice either express or implied. You are encouraged to seek professional tax advice for income tax questions and assistance.
IMPORTANT NEWSLETTER DISCLOSURE: The hypothetical performance results for investment newsletters that are authored or edited by Louis Navellier, including Louis Navellier's Growth Investor, Louis Navellier's Breakthrough Stocks, Louis Navellier's Accelerated Profits, and Louis Navellier's Platinum Club, are not based on any actual securities trading, portfolio, or accounts, and the newsletters' reported hypothetical performances should be considered mere "paper" or proforma hypothetical performance results and are not actual performance of real world trades.  Navellier & Associates, Inc. does not have any relation to or affiliation with the owner of these newsletters. There are material differences between Navellier Investment Products' portfolios and the InvestorPlace Media, LLC newsletter portfolios authored by Louis Navellier. The InvestorPlace Media, LLC newsletters contain hypothetical performance that do not include transaction costs, advisory fees, or other fees a client might incur if actual investments and trades were being made by an investor. As a result, newsletter performance should not be used to evaluate Navellier Investment services which are separate and different from the newsletters. The owner of the newsletters is InvestorPlace Media, LLC and any questions concerning the newsletters, including any newsletter advertising or hypothetical Newsletter performance claims, (which are calculated solely by Investor Place Media and not Navellier) should be referred to InvestorPlace Media, LLC at (800) 718-8289.
Please note that Navellier & Associates and the Navellier Private Client Group are managed completely independent of the newsletters owned and published by InvestorPlace Media, LLC and written and edited by Louis Navellier, and investment performance of the newsletters should in no way be considered indicative of potential future investment performance for any Navellier & Associates separately managed account portfolio. Potential investors should consult with their financial advisor before investing in any Navellier Investment Product.
Navellier claims compliance with Global Investment Performance Standards (GIPS). To receive a complete list and descriptions of Navellier's composites and/or a presentation that adheres to the GIPS standards, please contact Navellier or click here. It should not be assumed that any securities recommendations made by Navellier & Associates, Inc. in the future will be profitable or equal the performance of securities made in this report. Request here a list of recommendations made by Navellier & Associates, Inc. for the preceding twelve months, please contact Tim Hope at (775) 785-9416.